OWS TECH's SA-LF Series oil water separators are design specific and meet or exceed today's strict discharge limits. Our performance proven separators come in stainless steel and use a unique high efficiency coalescer (HEC) pack to remove free non-emulsified hydrocarbons with a specific gravity less than 0.95. Our (HEC) packs unique random tube matrix flushes solids and removes oil droplets down to 20 micron size with an effluent discharge quality of 10 ppm or less. The SA-LF Series by design has a low maintenance factor and is easily serviceable due to its removable lid and light weight removable (HEC) packs. Flow rates range from 0-15 GPM. With an extensive line of standard products we're sure to have one that meets your specific application.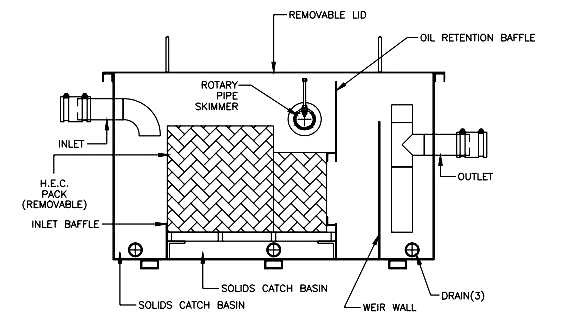 Features/Benefits:
Cost effective
Pre-packaged
Corrosion resistant
Lightweight
Made with our unique (HEC) pack for easy maintenance
Removable lid
Performance:
Flow rates 0-15 gpm
Removes free floating oils and settleable solids
Removes 20 micron size hydrocarbons and larger
Produces effluent down to 10ppm or less
Can produce effluent down to 5ppm or less with optional (HPF) pack.
Options/Accessories:
Control panels, level switches, and pump packages.