A BULK SPILL PREVENTION DEVICE
The purpose of OWS TECH'S oil stop valves is to contain bulk oil/fuel spills to their designated areas while allowing storm water to drain in non-spill conditions thus keeping the containment area available for the purpose in which it was intended. This completely automatic fail safe valve knows the difference between oil and water based on the specific gravity principle. Our unique oil stop valve is designed with only one moving part, a weighted cylinder which floats in water and sinks/closes in the presence of oil/fuel with a specific gravity of 0.95 or less. OWS TECH recommends the oil stop valve for any application where bulk oil/fuel is stored and could unexpectedly enter the environment. Please see below for installation options and valve types.
Valve Types
PVC
Economy model usually recommended for warmer climates. (Connection on inside of sump).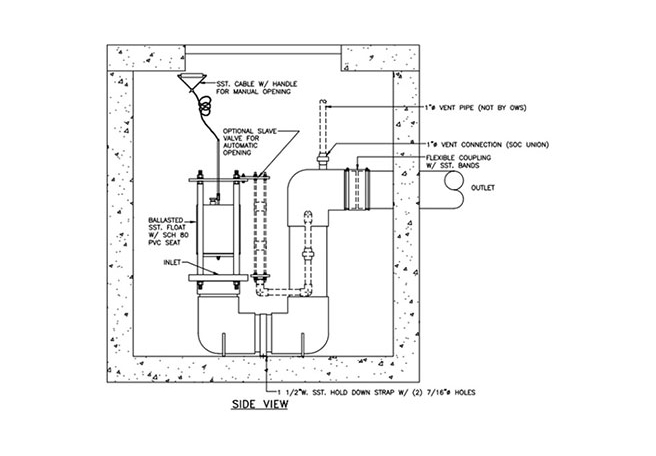 Stainless Steel Standard (SS Series)
Usually recommended for colder climates. May eliminate the need for a freeze protection package. (Connection on inside of sump).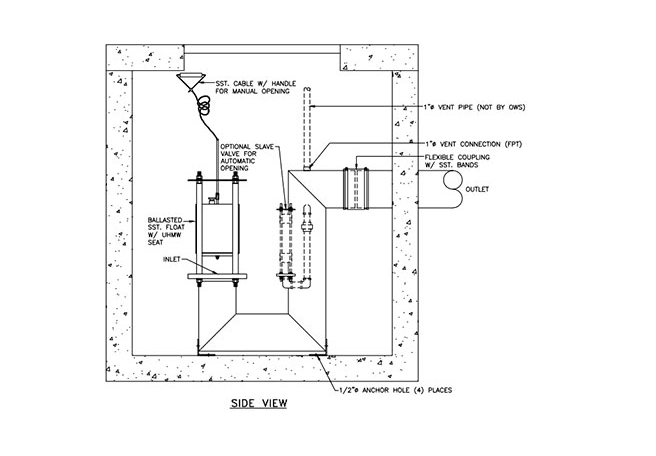 Stainless Steel Extended (SST Series)
Usually recommended for fire protection and/or colder climates. (Connection on outside of sump).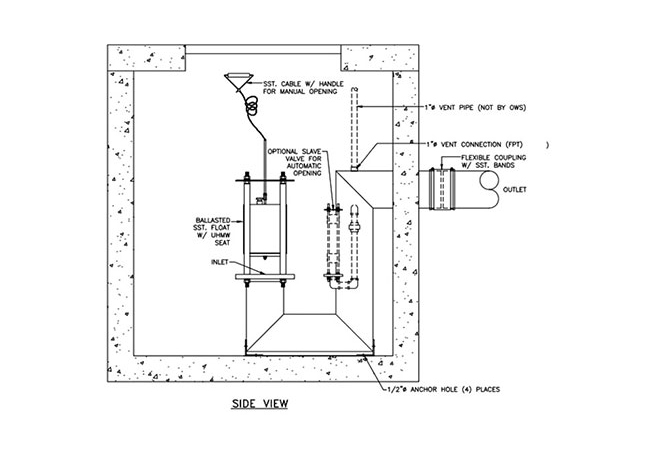 Highly Recommended Option:
Slave Valve: Usually recommended when evaporation or leakage may occur causing the Oil Stop Valve (OSV) float to close due to lack of water. Adding this option to any of the above models will make the Oil Stop Valve (OSV) fully automatic.
Features/Benefits:
Meets Spill Prevention Control and Counter Measures (SPCC) requirements
Unique fail safe design
Self-opening, automatic operation (Slave valve models)
Reliable Gravity Operation (Only one moving part)
No Power Necessary
Low Maintenance
Single flow rates up to 1400 GPM
Constructed of corrosion resistant materials
Positive Seating
Available for new or existing locations
Options:
High oil level switch package
Freeze protection package
Slave valve (Automatic operation)
| Valve Size | MM | (Max) Flow Rate (GPM) | LPS |
| --- | --- | --- | --- |
| 4" Diameter | 101 | 160 | 10 |
| 6" Diameter | 150 | 360 | 23 |
| 8" Diameter | 200 | 600 | 39 |
| 10" Diameter | 250 | 900 | 57 |
| 12" Diameter | 300 | 1400 | 88 |
Warning: Exceeding the above recommended flow rates may cause the valve to close prematurely.